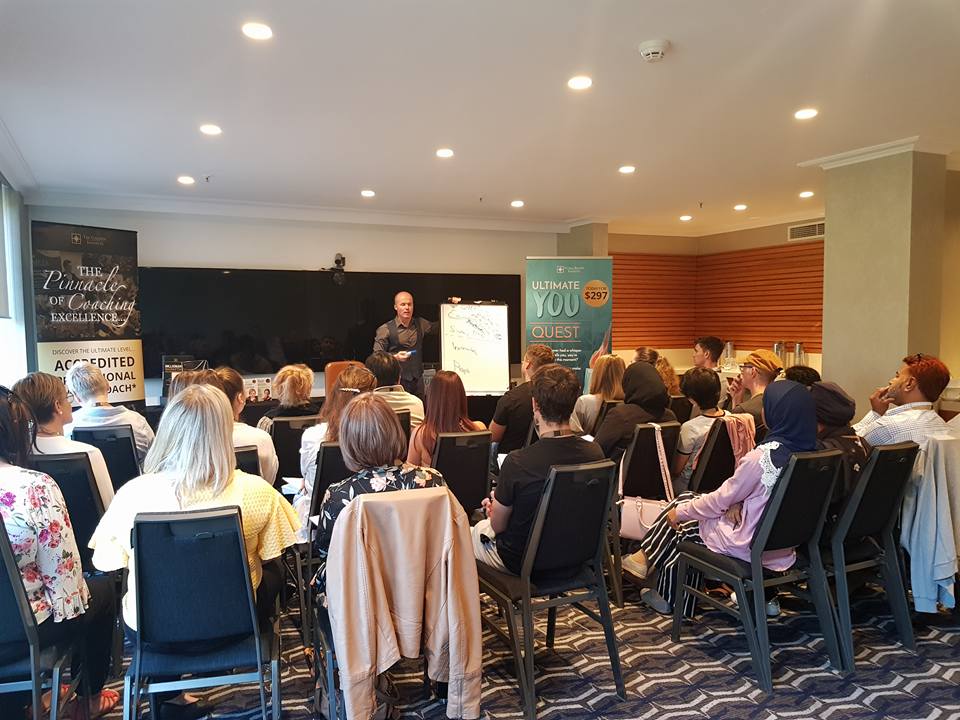 "I absolutely enjoy the session and the outcomes far exceeded my expectations. Before the Foundations of Coaching training, I was stuck in my head and didn't know how to connect with my heart - my true self. Through Joe's amazing guidance, imparting wisdom and providing us the space to practice, TCI has provided me with the confidence to go forward with my personal development and coaching journey. I highly recommend The Coaching Institute for anyone wanting to return to self love, find direction in their lives or (and) start an amazing career in coaching."
- Christie Wilson 

"Foundations of Coaching Success is very much what I need to assist me to achieve the goals I have in my coaching journey. Joe's knowledge, skills and presentation was fantastic. He always provided individual support, encouraged questioning and provided epic answer. Joe and TCI are absolutely running the event with love and dedication. I would definitely recommend this epic training to others!"
- Thaya Shanmuganathan 

"Coming to Foundations of Coaching Success was like coming home to my family. The crew was the greatest team ever!  All the necessary information was provided to me with love and peace. The materials for the training was delivered perfectly and timely. The whole experience was beyond satisfying."
- Samia Aljuwayed 

"Foundations of Coaching Success Sydney was set up brilliantly in a safe and encouraging way, respecting everyone's boundaries. Joe was amazingly encouraging and very open to listening, offering individual support. The team was absolutely wonderful, fantastic and awesome. I couldn't ask for a better training. Absolutely loved it!"
- Kenisha McAnally 

"Foundations of Coaching Success over the weekend was incredibly expansive and absolutely amazing. We should have all these personal development skills taught in schools! Joe's knowledge and training experience were brilliant. This is the TOTAL package!"
- Jo-Anne Coxon 

"Such a beautiful experience of introduction to coaching and TCI community! Joe Pane is an amazing trainer! It was an informative, fun and great learning experience."
- Monika

"Foundations of Coaching Success Sydney was absolutely incredible! All of the Ninjas were incredibly supportive, Amy delivered great experience and knowledge and Joe Pane was unreal! He's moved my soul and change my life, forever. Thank you so much! Everybody should invest in themselves. If we can help ourselves we can 1 million % help others. And the confidence I've taken from this training has been mind blowing! I thank TCI from the bottom of my heart. You've truly changed my life."
- Sarah Pickering 

"With years of specialised corporate coaching I was looking for an organisation which would fill the knowledge gaps and provide an opportunity to bring out my best. The outcomes of the training were ways beyond my expectations. Joe delivered the training with such great humour, empathy and experiential knowledge. I completed a detailed market analysis and TCI is light years ahead of the next... I'm in boots and all!!"
- Glenn Coxon 

"Amazing content, amazing trainer, amazing crew! I couldn't ask for anything more, the training far exceeded my expectations. Everything was fantastic, super fantastic and overwhelmingly fantastic!"
- Bob Sheldrake 

"I love EVERYTHING about this training. The material, presenter, the ongoing encouragement, sharing & support. There was nothing I didn't love. There were times I was out of my comfort zone which has done me the world of good. I received more support & encouragement than I imagined. I feel TCI has definitely met all my needs and I am so looking forward to all the continued valuable support. I've upgraded to Professional Coach. My goals are clearer now and I am confident that I will achieve them!"
- Colleen Nichols 

"Such a great start to my coaching journey, I found a valuable support group to keep me going. Joe is an excellent trainer and he made it fun to be the training. The material covered was excellent and the demonstrations were inspiring."
- Robyn

"Loved the rapport Joe established with us straight away...it set us up for a fabulous weekend of openness, sharing and learning! Such a brilliant experience and I definitely love the surprise gift. And the team especially Emily, offered the most wonderful support. Highly recommend!"
- Jane Trigg 

"Overall, just an awsome experience, great support, question always answered and a lot of substance during the training. TCI you created an awesome environment and surrounding which I would say is one of your greatest strengths. Keep up the good work!"
- Alexandre Lamarche

"The content, delivery and length of sessions were amazing. A lot of time to digest the information received. I thoroughly enjoyed Joe's experience and expertise. I would highly recommend this session to others! I've actually already messaged a few colleagues & friends that could benefit personally, and have coaching potential."
- Sarah Bell

"Joe was so interactive and made training enjoyable with his sense of humour. He absolutely had my full intention the entire time for all 3 days! I love how this training has also taken me on a personal journey and has brought "stuff" to the surface in just a matter of days. I feel so full of knowledge right now. I look forward to working on myself in order to also help others. Would definitely recommend this training to everyone."
- Rania Interdonato

https://media1.thecoachinginstitute.com.au/website/2019/03/19180447/tci-logo-horizontal-white.png
0
0
connect
https://media1.thecoachinginstitute.com.au/website/2019/03/19180447/tci-logo-horizontal-white.png
connect
2018-04-27 18:14:30
2019-01-23 15:11:51
Foundations of Coaching Success Sydney 20-22 April 2018
Event Testimonials